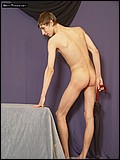 Meet Abrys, a sensitive, romantic boy with a heavenly slim build, big blue eyes, and a teasing smile. This was our first studio shot with him, so he blushed with that cute shyness at times. He looked terrific though, wandering around the studio, masturbating his cock under the cover of that big black umbrella.
No Comments Yet
You can be the first to comment!
Sorry, comments for this entry are closed at this time.